About Intuitive Readings & Spiritual Wellness Coaching
Discover your true self through the natural art of healing.
In this section we hope to provide a better understanding of what intuitive readings are as well as a Spiritual Wellness Coaching session. Please feel free to contact us if you have any questions.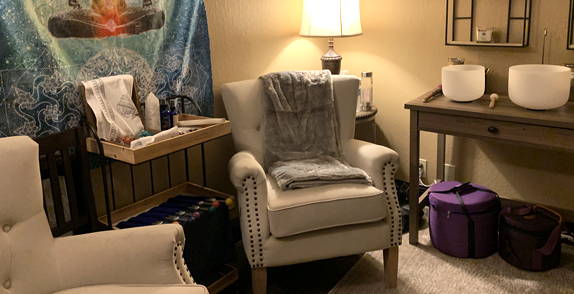 ---
What is an Intuitive or Spiritual Wellness Coach:
An intuitive or Spiritual Wellness coach is a professional who helps people change their lives and achieve their goals by helping them to access their own intuition. A Spiritual Wellness coach integrates mind, body and spirit rather than focusing on secular elements of life alone such as old habits, goal-setting and the like. By gauging your energy and working on emotion and healing, an intuitive life coach can help clients to release blocks that keep them from moving forward.
A Spiritual Wellness coach may recommend holistic remedies & modalities if it best suites your needs at this particular time.
We work together to resolve and release emotional blocks, sorrow, past issues, upcoming events, etc., combining intuitive life coaching, energy healing, and other modalities to help you make the changes you are being guided to make.

Often times we find the information that comes through, you may "already know" but have not been able to accept. With confirmation from your session, we will help you to trust your own inner guidance and allow yourself to move forward.
You and only you are in charge of your life, your path and your future as well as your mind body and spirit. We are here to make you conscious of these things and guide you in how to empower them- and your self.
About Spiritual Wellness Coach Sessions
As a Spiritual Wellness Coach, my goal is to help clients tap into their inner guidance to discover a limitless source of intuition and inspiration, available to each and every one of us. By deepening their connection with the Divine, an individual achieves a higher octave of healing, deeper understanding and acceptance of the self. The goal is to help individuals find balance and harmony between Body, Mind and Spirit so they feel confident in joyfully pursuing their unique purpose and passions.
About Our Intuitive Readings:
Whether you are looking for a psychic intuitive reading alone or perhaps you are more comfortable with the Tarot or maybe you are looking for mediumship, we can provide you with a number of different and/or in combination intuitive services.
You can view on our Intuitive services and Reiki healing services pages of our website. We may also find, once working with you, that a particular modality would best help to improve your particular situation. Some of the items we might recommend could be:
Reiki
Crystal and Sound Healing
Chakra Balancing
Aura Clearing
Meditation
Movement (yoga, stretching "Soul-Together" (our signature healing + meditation journey class)
Aromatherapy
Mediumship
---
Who might benefit from an Intuitive Reader or Spiritual Wellness Coach?
If you or someone you know is feeling:

Angry

Confused

Empty

Lost

Depressed

Resentful

Emotional

Wants to build self confidence

Want to learn to love yourself

Learn to hone your gifts

Learn to control empathic experiences

Better understand the Clairs and how to use them rather than be confused by them

General Direction

Pain from past events

Sorrow

Soul searching
An intuitive Reading or Spiritual Wellness Coach Session can help with you mind, body and spirit to bring you back to wellness and your life to a better place. Our goal is to help you to feel whole and complete.
Topics an intuitive life coach can help with.
Do you have a particular question in mind? An area of life or emotion you need answer regarding? An intuitive life coach reading can help you to guide you in the right direction.
Family

Career

Education

Love

Money

Self Confidence

Self Love

Purpose in life

Sorrow and grief

intuitive development




…to name a few… you get the idea!
An intuitive Reader or Spiritual Wellness coach will NOT:
Will not prescribed anti depressants or prescription medication
Will not predict the rest of your life or whats going to happen next
Will not push you into diet or exercise
Will not give you commands
Will not tell you what to do with your life
Will not Provide psychotherapy
What they WILL do:

Motivate

Uplift

Help you to find what you are looking for

Provide guidance

Provide you with tools for self empowerment